WORLDWIDE
Periquita around the World

Tradition and Portuguese culture.

It was the year of 1881, when the first exports of Periquita to Brazil started. Brazil was already the main market of the company's wines and the excellent network of the agents of José Maria da Fonseca in the country contributed to the success in these important trade posts.

Being one of the oldest brands in Portugal, Periquita has renewed its image, focusing on its origins and the Portuguese character of the wine. Curently, Periquita is present in more than 70 markets, from Europe (with a strong presence in Sweden, Norway and Denmark) to Latin America (where in Brazil it is the best-selling European wine), through the North American and Canadian markets and finally a recent appearance in the Chinese market.
Throughout its more than 160 years, Periquita has been a unique case of Portuguese viniculture, not only in terms of longevity, but mainly in its great capacity of renovation and modernity.


............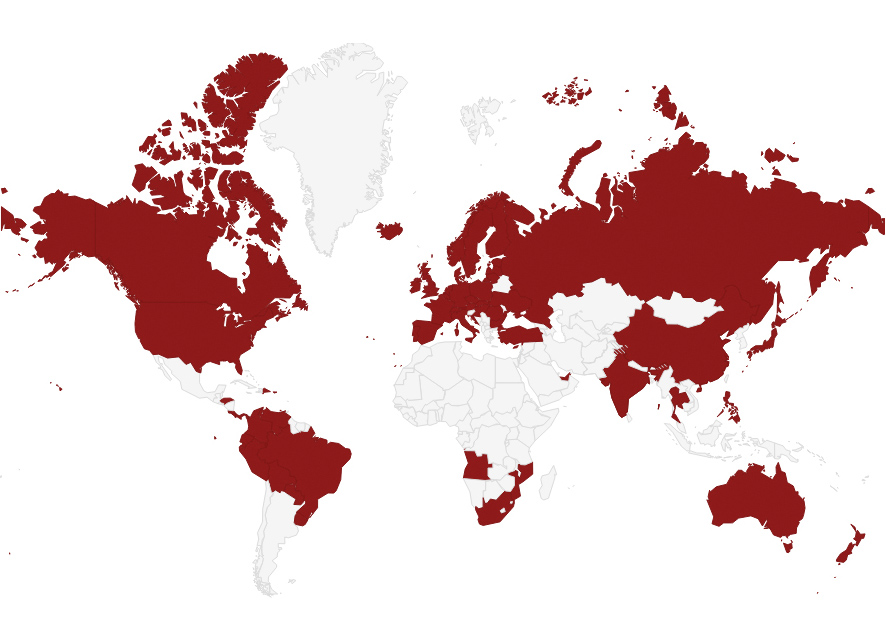 AMERICA
Bolivia
Equador
Puerto Rico
Brazil
Honduras
Dominican Republic
Canada
Paraguai
Uruguai
Colombia
Panama
USA
Costa Rica
Peru
Venezuela
EUROPE
Germany
Croatia
Finland
Italy
Malta
Czech Republic
Switzerland
Austria
Denmark
France
Liechtenstein
Norway
Romania
Ukraine
Andorra
Estonia
Netherlands
Latvia
Poland
Republic of Ireland
Belgium
Slovakia
Hungary
Lithuania
Portugal
Russia
Bulgaria
Spain
Iceland
Luxemburgo
United Kingdom
Sweden
ASIA
China
Japan
Cyprus
Macau
Philippines
Singapore
Hong Kong
Thailand
India
Timor
AFRICA
South Africa
Angola
Cape Verde
Congo
Mozambique
OCEANIA
Australia
New Zealand